COVID SAFETY MEASURES
We would like to share with you the initiatives that we have implemented to keep you safe:
High touch surfaces throughout our new showroom and service areas are sanitized regularly throughout the day
All vehicles including inventory, customer and loaner vehicles, are professionally sanitized before and after every use
Hand sanitizer is located on desks and at multiple points throughout the dealership
Our new showroom desks and offices include more thoughtful social distancing requirements and include sneeze guards
All employees are required to wear a mask and we conduct employee health screenings daily
We offer on-line sales and customer service for all your vehicle needs and can arrange remote delivery for your new vehicle to your home or office
We offer complimentary concierge pick up and delivery for your service appointments when you schedule ahead of time
We offer contactless service appointments by offering afterhours drop-off   
We are making sure to disinfect all of our vehicles, whether they're new, pre-owned, loaners, or customers vehicles in service.
Multi surface disinfectant wipes being used on all touch points.

Disposable steering wheel covers, floor mats, and seat covers being applied and removed by trained staff.

Sprayed application of "Transform Disinfectant."

 
Sales 
Monday, Thursday 9am - 8pm
Tuesday, Wednesday, Friday 9am - 6pm 
Saturday 10am - 3pm
You can:
Submit a lead on your vehicle(s) of interest and we can take it from there!
Contact your preferred Sales Guide:
Derek Alore: 586-203-2662 - dalore@jaguarlandroverlakeside.com
William Scandalis: 586-203-2645 - wscandalis@jaguarlandroverlakeside.com
Louis Gruevski: 586-203-2597 - lgruevski@jaguarlandroverlakeside.com
Mike Hinkley: 586-203-2605 - mhinkley@jaguarlandroverlakeside.com
Matt Hinkley: 586-203-2658 - matth@jaguarlandroverlakeside.com
Erik Matthes: 586-203-2647 - ematthes@jaguarlandroverlakeside.com 
Mike Tomeica: 586-203-2632 - mtomeica@jaguarlandroverlakeside.com 
If you need to speak with a manager please call:
Robert Richey: 586-203-2630 - rrichey@jaguarlandroverlakeside.com
James Zelenak: 586-203-2640 - jzelenak@jaguarlandroverlakeside.com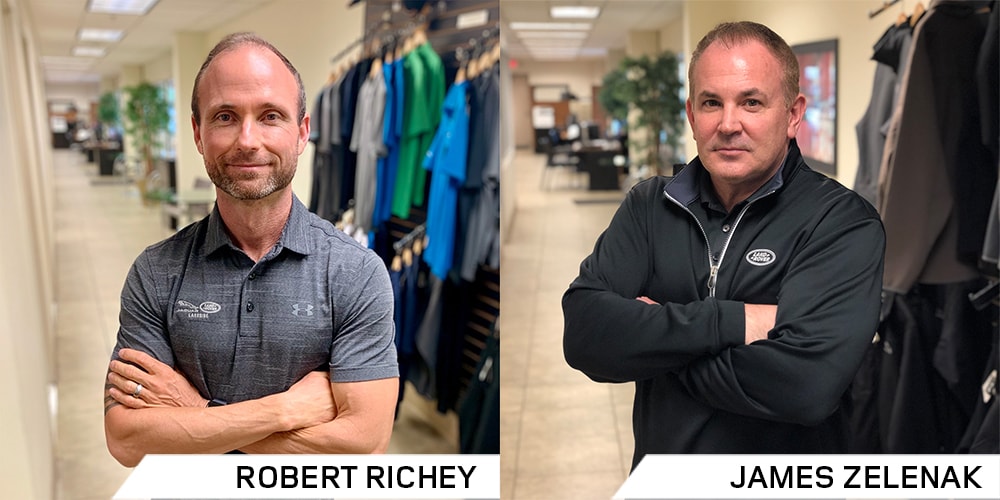 THE SERVICE DEPARTMENT IS OPEN TO ASSIST YOU. 
MONDAY - FRIDAY 8AM-6PM • SATURDAY  8AM - 6PM
We realize you still have automotive service needs for your vehicle. We are open!
Call us today: 586-221-3433

The Parts department is open and is available for both retail as well as limited wholesale delivery service.

Please call our Finance Manager, Joe Allen, directly at 586-203-2650 or email him at jallen@jaguarlandroverlakeside.com